LABDOO SAVED OUR COMPUTER KNOWLEDGE & SKILLS EMPOWERMENT PROGRAM
Since the year 2000, ICT (Information and Communications Technology) is one of the fastest growing sectors in Kenya but you will find that the digital divide is huge between the haves and the have-nots, and between the urban and the rural dwellers.
In 2000, I was working in Nairobi and I was privileged to rub shoulders with the who's who in ICT because by then, Kenya College of Communication & Technology (KCCT), the institute I was affiliated with in Nairobi, was the only institute that was fully recognized and mandated by the government to drive forward the ICT matters in the country.
Computers were becoming more visible in offices while entrepreneurs and the young embraced the new technologies by opening computer-related services like cyber cafés and typesetting. However, at the same time, the rural population were either ignorant of the importance of acquiring computer skills and knowledge, or they could not afford the cost of training and/or owning a computer.
I remembered the conversations of some of my friends at KCCT who had studied at the larger universities or were sent to countries such as Germany and Switzerland for refresher courses. "Computers are the next big bang", they used to tell us sharing how computers had transformed those countries and had in fact created more opportunities for their citizens. But they also warned us that computers also phased out of the job market those who refused to embrace the new technologies.
I decided to venture into this new sector by first saving my salary and buying my own PC. For 3 years (from 2003 to 2006), I saved my salary until I could buy my first machine; it was a Dell Pentium 3. What is could do in my house was marvellous for it had all of the typesetting features, photo editing and I was able to insert a tv card which meant there was no need to use a separate video cassette player, radio or tv. This one machine changed my way of living and the direction I was taking in my life.
When I looked at the boys and girls in our rural villages who, although having finished secondary schooling, will be rendered irrelevant due to their illiteracy in computer skills & knowledge, I decided to quit my job and save those girls and boys. If I help them acquire computer knowledge and skills, it would make them equal with their peers in the big cities.
At first, it was not easy convincing my wife as she could not understand how one could leave a job and a good city life for an unknown mission of saving others. Her concern for our first-born child, Mitchell, (5 years old) and our twins, Gloria & Elvis, who had just turned 3 and a half was real. But for me, my dream was bigger than these worries.
However, in the village, things were not sweet for unlike in the city, electricity was scarce, rental places were expensive and scarce, and the community lacked interest.
I decided to join a local NGO as documentation officer where my work involved teaching the staff how to use computers, how to send emails, how to take photos of our programs and include them in our reports etc. But I was unable to convince the Director about the need for training all of the youth under the scholarship program so I quit in 2010 and founded PEOPLE AGAINST POVERTY.
With my computer which was now aging, I set up the first training center at Shianda Market Mumias and since the young people had seen what I had done both within the NGO and out in the communities we served, they started flocking in. I was able to train 10 people per computer at a time, a few sitting while the rest stood waiting for their turn to use the computer. Another 15 would wait for hours for their lessons.
I was happy when former students would come and tell stories about how the computer lessons had helped them in their college studies. One day, a former student (a local primary school teacher) told our students how he was promoted to Deputy Headmaster and later promoted to Headmaster (a position he holds up to now) courtesy of the computer skills he learnt.
In 2015, my computer finally broke down. Through Facebook, I had met a friend from USA called Tom Diven who had been keenly following my charitable work. When I told him about my computer breaking down, he donated money to me through PAYPAL and I bought another new computer which I still cherish and use today. With that computer, we have been able to reach hundreds of young people and been able to empower them with both computer knowledge and skills.
In 2016, I decided to formally register PEOPLE AGAINST POVERTY (PAPO) under the rules and regulations of the Republic of Kenya and we were issued a certificate in August 2016. The following year ,a local friend whom I shared my story with, donated a second refurbished computer but it started to develop mechanical issues.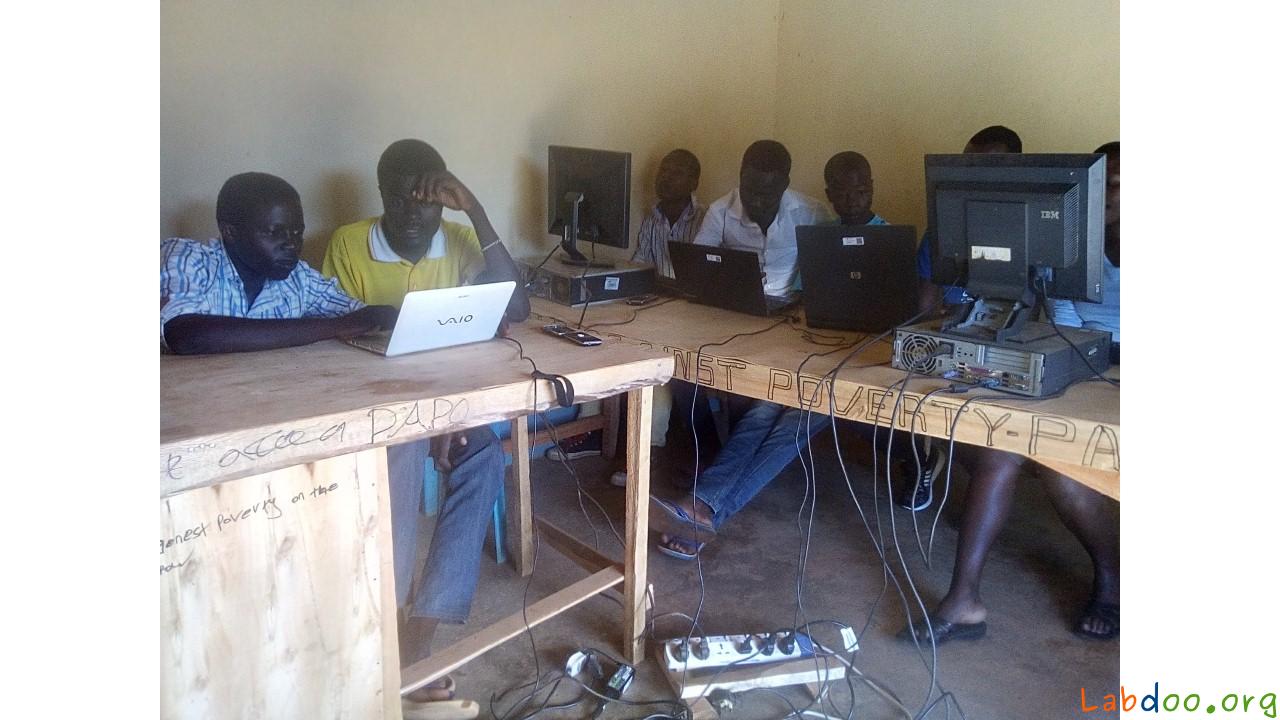 Because of the free courses we offered prioritizing computer knowledge and skills, many young people both in school and out of school were joining our training center. Having only two computers, one functioning well with the second having mechanical issues, increased the pressure on me and quitting seemed the best option. But before I decided to quit, I visited a friend who appeared to have donor support and asked him if he had any computer project that can accommodate my enrolled students. He said a big NO.
But he is my Facebook friend and 2 weeks later, I saw him post to his circle friends who had benefited from seed funding an invitation to attend a fundraising forum. Although I had not benefited from any donor funding, I decided to gatecrash the Kakamega Hotel forum. At the conference room doorstep, he saw me so I explained why I was there. He consulted with his team and I was let in.
I was given a chance to introduce myself and share what I did. I told the forum that for the last 10 years I had tried my best without securing any donor funding and that if a miracle didn't happen, I was going to have to close my center. Everybody sympathized with me.
During their speeches which I was keenly following, a young man representing an organization called KARGENO in Nyanza (western part of Kenya) made a comment that touched me. He spoke of an organization called LABDOO which was supporting causes like ours with free laptops. On my way home, I promised myself not to close PAPO before I had contacted LABDOO.
That night I browsed the internet to learn about LABDOO and by luck, I found them. Using their contact form, I briefly introduced myself, told them what I did, and made my request. Within 1-2 days, on November 12th, 2019, I got a reply back. I was used to hearing "we are sorry/regret…" and so I pumped myself with enough energy to read the email. Do you know what? It was Elena positive response to my request. She asked for more information and voilà, we were accepted by LABDOO as a beneficiary of their laptop donations. On December 26th, 2019, our EdoVillage was created in Zurich, Switzerland by Frank.
When I shared our great news with both my family and PAPO, everybody rejoiced and we all said "God is great". After Christmas, I received an email from Elena that a traveler was travelling to Kenya with our donated laptops. To us, this was good news & the best New Year's present ever. On January 3rd, 2020, we received three laptops, the first donation from Labdoo through Hellena Valsells. To us — the donor who donated the laptops to Labdoo, Elena, the founders of Labdoo, Frank who created our Edovillage in Zurich Switzerland, and Helena who agreed to deliver the laptops to us over a thousand kilometers away in Kenya even when she does not know us personally — you all have become our Angels and Heroes.
The donated laptops have done wonders for our organization by saving our computer skills, knowledge & education empowerment program from failing. Because we are now not closing our center in the near future, we will have a happy humble time searching for kind people who can help us resolve some of our other challenges such as providing many more students access and the use of laptops, helping more people both in school and out gain computer knowledge & skills, providing access to academic books and encyclopedias, and not forgetting the games that come pre-installed with the laptops.
As we pray for the better days ahead, we also pray for the continued willingness of Labdoo, their donors and travellers to continue delivering more laptops to our Edovillage so that we may reach as many people as possible who having never touched a computer in their life, can go on to lead an active life and have a secure livelihood.
A detailed report was written by
Josephato Chibata Chibai
Director, PEOPLE AGAINST POVERTY (PAPO)
17 January, 2020.
Date it was created: 21/01/20/
Date it was last updated: 25/01/20