My struggles began while I was still in my mother's womb. With my dad being away for work, my mom had to give birth to me in our home all alone, leaving her frail and bedridden for a month. During this time, my mother dreamt that there was an angel helping and assuring her that everything would be fine; she recalled that the angel's name was Elenery. Hence my beginnings as Alinery Lalngilneii Lianhlawng (Lalngilneii: "the merciful Almighty God"), a strong girl born with grit and diligence.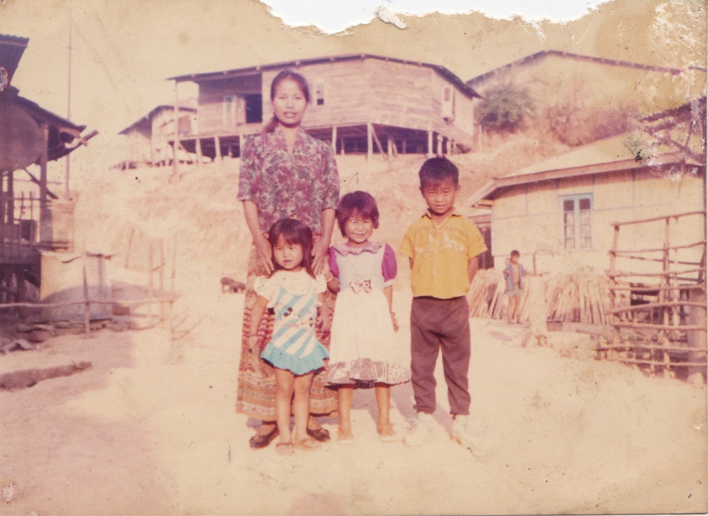 My grandfather was the chief of Pangkhua in Mizoram, a remote village in a boundary area between the present India and Myanmar. Mizoram is a state of Northeast India, and Aizawl its capital city. The name is derived from Mi (people), Zo (lofty place, such as a hill) and Ram (land), and thus Mizoram is literally translated as the "land of the hill people". The state shares a 722 kilometer border with the neighbouring countries of Bangladesh and Myanmar. Before the British expedition in 1871, Mizoram was a tribal area of small and isolated clusters of chiefdoms, raising war against another. Mizoram sought and failed to secure its independence two decades ago when it was absorbed as a state into greater India and then relatively ignored, receiving little support for a post-conflict economic revival. Mizoram remains politically isolated from international exposure due to central government restrictions towards its ethnic minority in the land-locked corner of North-east India.
My journey towards education
As a child, I listened to my father share his childhood memories of how his father maintained his position as Chief through his personal qualities rather than hereditary rights. My grandfather not only served the people with respect and dignity but maintained peace, and protected the lands and rivers from invaders. Influenced by his values passed down through the generations even after the chieftainship was abolished, the concept of leadership as being of service to others was instilled in me from birth.
Unlike many communities in India, Mizoram is free from social classes and gender discrimination and so I grew up in a loving Christian family where the entire community is knitted together by traditional code of ethics, "Tlawmngaihna". This code translates to always being ready to assist others, courageous, humble and willing to stand up for the good of the whole group while at the same time, ensuring you are not a burden to others. My family is small yet, very happy, modern and open. As the youngest child of five, pursuing my studies was a challenge when my parents struggled to just buy our uniforms for school. I remember my dad working in the field from dawn to dusk. As a housewife my mother had to juggle both working in the field and the household chores while also actively contributing both to the church and to different NGOs in the village. Consequently, all of my older siblings dropped out of school and my eldest sister got married before she had even finished high school. Fortunately, I managed to remain in high school through a merit scholarship and part-time job that helped me pay for my school fees and school supplies. However, my level of English was so poor that I was unable to even introduce myself. My father decided to sell a plot of land in order to send me to an English boarding school in the city for class then, which became a turning point in my life. I will forever be grateful to my departed father for giving all he had for his daughter's education. It bridged the communication gap that for a village girl like me would otherwise have prevented me from accessing higher education.
Hailed in my border village in Sangau, Mizoram, India, I was the first female from my community to study abroad and the only person from my family to be admitted to university. Shouldering the responsibilities that came with a huge financial investment in me and society's high expectations, my journey to obtain a quality education was both tough and challenging. Receiving a scholarship for a university education has been an incredible privilege and I have sought to utilize it to the fullest for myself and others who follow. Equipped with a liberal arts education and background in Environmental Science and Development Studies, I have been conducting independent research to learn about the impact of development projects under the Indian Look East policy in Mizoram and have travelled to Myanmar to document the effects of massive construction projects alongside the border. My research has led to me participating in UN conferences, doing an internship at the Export-Import Bank of South Korea, and presenting papers to JICA headquarters in Tokyo, Japan about the hardships and struggles I have faced as a woman, as a member of tribe, and coming from a third-world country. The events, the people I have met and the stories that have been shared have slowly affirmed for me the realization that I am the best person to help myself and ultimately, my community. As a result, I applied for and was one of two awarded the 'Wedu Rising Star Special Construction Project'. Wedu is a leadership development organization that unlocks the leadership potential of women in Asia, enabling them to become leaders of their own development and that of their community. This organization not only gave me a lifetime mentor, but also gave me a chance to implement my passion into action.
Linking Back to My Origin
With the knowledge that education is the most powerful weapon to change the world and with financial assistance from the Wedu Rising Star Project, I and a team of supporters set out to build the first ever school library back in my hometown of Sangau Mizoram, India. Growing up in this remote, underprivileged community, I remember how difficult it was to buy your exercise/note books; purchasing course books or novels was therefore completely out of the question. Even now, many students often use worn books passed down to them by their siblings or relatives. So the location of this project is at Blue Mountain Higher Secondary School, Sangau where I studied till high school. This higher secondary school was established in 2011 by a managing board composed of representatives of our community, and its mission and vision is to help those students who are unable to continue their higher studies in cities remain in school. Most students in this school come from low-income families in Sangau and the 12 cluster villages nearby. To get to the school, some students have to walk 15-20 Km to get to the school! Nevertheless, due to teachers' diligence and students' determination, since inception the school has attained tremendous achievement in Mizoram Board of School Examination where 99% of students passed their examination from 2012-2016.
By building our library in Sangua, we hope to lift future students from poverty by eliminating the struggles that were tied to accessing even to a basic education. Since the school is not in the position to run the library nor purchase books on their own, simply providing the library building was not enough help the school. Therefore, the project included creating a functioning library by installing bookshelves, books, tables, chairs and computers/laptops to maintain and record books. The majority of the funding provided went towards the construction of the library building with the books being collected mainly from door to door campaigns and through the generosity individuals as well as organizations. Our library now comprises of a beautiful room in which to read filled with the resources needed for students to learn, grow and develop.
My sincerest gratitude goes to Jampa Latso, my Tibetan best friend who introduced me to the wonderful Labdoo and Jordi Ros. Because of Labdoo, students who had never been in a library nor used a laptop before can now access unlimited resources and opportunities. With hundreds of books and educational content installed, Labdoo laptops are critical components of our library.
I look forward to collaborating further with Labdoo and developing this pilot project into a growing startup that continues to provide services to our communities (such as school libraries) in recognition of, the right of all students to a quality education as it is education that is the ultimate catalyst of social change.
Date it was created: 24/10/17/
Date it was last updated: 02/01/18